An interview with Dr. Jim Gimzewski, UCLA conducted by April Cashin-Garbutt, MA (Cantab)
Can you please give a brief introduction to your research characterizing cancer cells?
My name is James Gimzewski and I am a distinguished professor at UCLA. I'm in the Chemistry and Biochemistry department, but I am also heavily involved in the California NanoSystems Institute at UCLA. We were probably the first to pioneer the idea of what is now known as mechanobiology – the study of the mechanical properties of cancer cells as a potential diagnostic tool.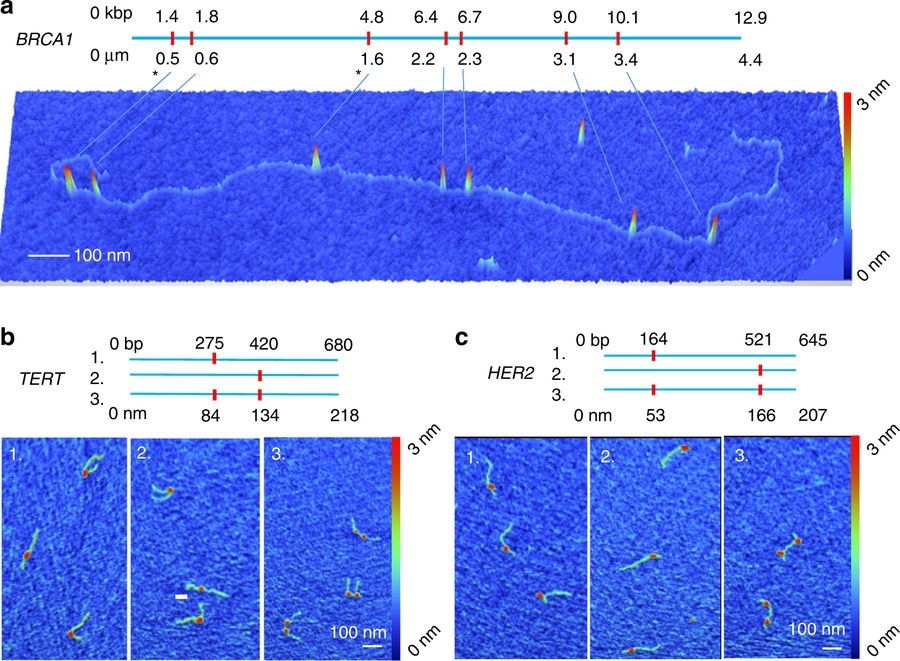 Credit: Mikheiken, A. et al. DNA nanomapping using CRISPR-Cas9 as a programmable nanoparticle. Nat Commun. 8, 1665 (2017)
How has AFM allowed you to measure cell softness and why is this important?
One of the beautiful things about AFM is that it is a mechanical tool. In the same way a doctor would feel the skin or tissue of a patient, AFM allows that to be done on the nanoscale and it is unique in that respect.
What challenges did you have to overcome in terms of making sure the cells didn't burst?
We know a lot about AFM technology. At the beginning, AFM was not very good at biology at all. However, we are experts in nanotechnology and by working with people who are experts in cells, and bringing the two fields together, we could conduct a lot of research and decrease forces, for instance, and understand things about the tip, which enabled us to develop this ability.
Mechanobiology and AFM from AZoNetwork on Vimeo.
Is it known why metastatic cancer cells are extremely soft compared to normal cells despite similarities in appearance?
I work with people at UCLA who are experts in pathology and there are subtle differences in certain morphologies and so on in cancer cells, but it is not always possible to tell that.
We have an orthogonal tool that when used to look at the mechanobiology, shows us that the metastatic cancer cells are about 10 times softer than some equivalent mesothelial cells that would be in a sample.
Will it be possible to use AFM in the clinical environment as a diagnostic tool?
I have been working with Jianya Rao who is the head of pathology and specializes in cancer diagnosis. Together, we are working on a new type of tool, which is an automated platform that would allow, for instance, medical people to use the microscope and automatically detect cancer cells. That is the long-term goal of our work − being able to translate that into a medical setting.
How has AFM directly advanced or helped your research?
I have always been interested in nanomechanics. I started studying nanotechnology in 1983 at IBM and then I moved to UCLA in 2001. I started to think we could use this nanomechanical tool as a unique way of looking at biology and that led me into medicine. It is an essential tool and it keeps improving by getting faster and more automated. I have a rosy view for the future of its use in medicine.
What is the biggest impact that AFM has made to the biological and nanomedicine research fields?
There are numerous ones. Of course, I particularly like the ability to study mechanobiology, but I am also interested in imaging and high-speed AFM. We have been able to image molecular motors running along actin filaments. High speed allows you to take videos of life at the nanoscale and I think they are marvelous. More things will emerge in the future.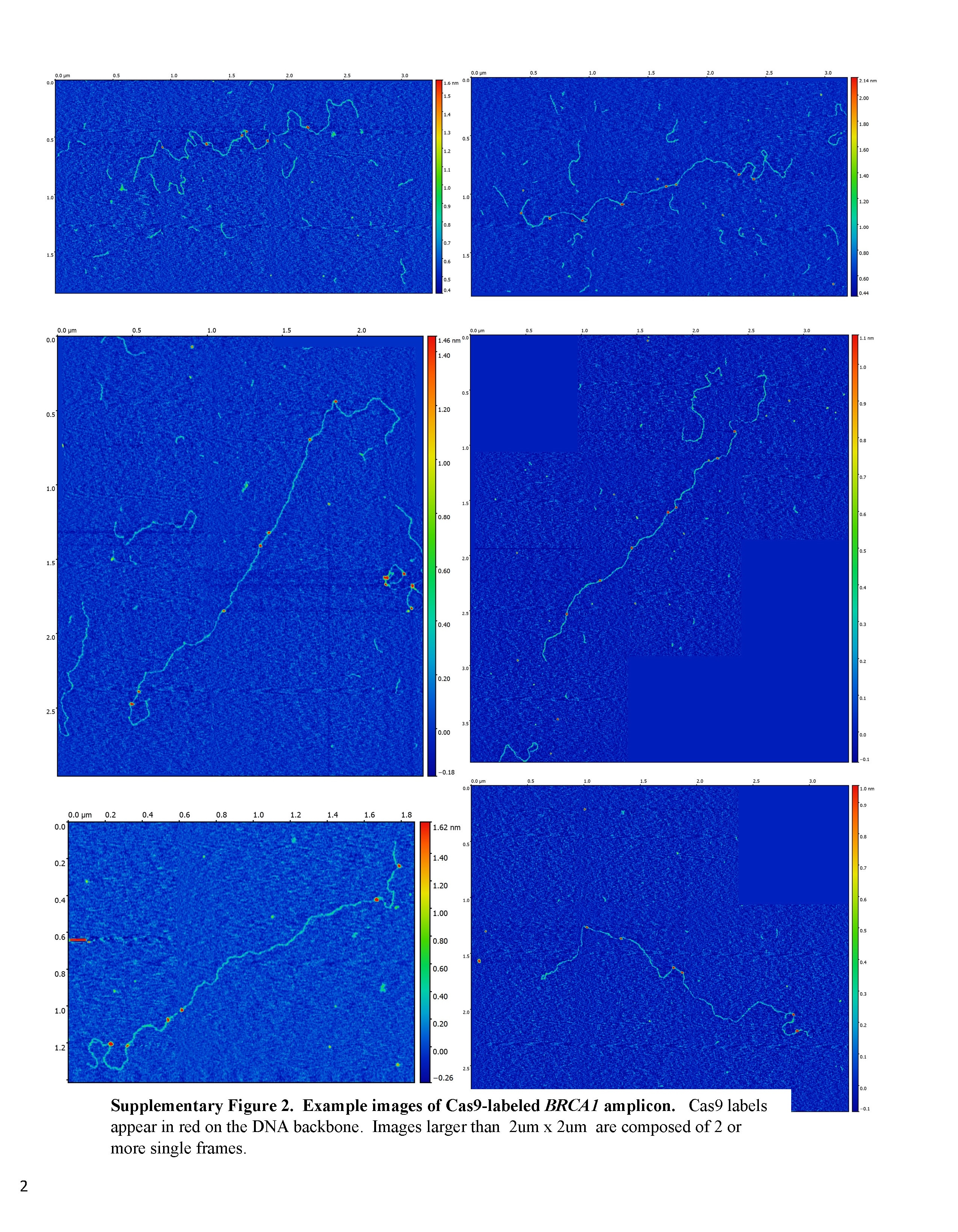 Credit: Mikheiken, A. et al. DNA nanomapping using CRISPR-Cas9 as a programmable nanoparticle. Nat Commun. 8, 1665 (2017)
How has Bruker technology helped or advanced AFM in biological research?
They are one of the leading companies, particularly in the bio field. Personally, together with the California NanoSystems Institute, we have a very close relationship. They are in Santa Barbara and we are in Los Angeles.
They go out of their way to tweak and modify the machine according to who is working in bio and medical needs. I think that has been a very important aspect and, in particular, Chanmin Su is an absolute wizard at putting things together in a very short space of time!
What is the importance of meetings, like the AFM BioMed Conference, to you and the AFM research community?
Just today, I have learned so much. I try to keep up with the literature. In the old days, there were perhaps 50 AFM researchers in the world, whereas today, there are thousands of AFM researchers. This is therefore a great opportunity to get together, talk to people, find out the latest developments and even come up with new ideas and ideas for collaboration.
This is a particularly good meeting. It is also not too big; it doesn't have parallel sessions and so on, so you can really have a one-to-one relationship with a lot of the people who are talking here or presenting posters.
What direction do you see, or would like to see, AFM going in the next five years? What do you see as the next big thing for AFM?
I would like to see a couple of things. I would like to see the speed keep increasing. At the moment, just some small demonstrations have shown 1,000 frames a second is possible under certain conditions, but it would be good if under all biological conditions, we could have really fast videos and watch the mechanics of life in motion. I think that is one direction.
The other direction concerns the fact that AFMs tend to be general purpose. They can look at cells and at strands of DNA. They can do lots of things, but that comes at a price. I would like to see more purpose-built AFMs − ones that can map DNA and are designed for that high speed. In the field of medical diagnosis, it would be useful to have machines that are much easier to operate so that a medical technician could run them.
A third direction that is important to me is to keep reducing the forces down to piconewtons. We typically talk about nanonewtons in AFM, but I would like to see a move to very low perturbations in terms of the forces.
Those are the three things that I personally would like to see happen and I think they will happen.
Where can readers find more information?
About Dr. Jim Gimzewski
Dr. James K. Gimzewski is a distinguished professor of Chemistry at the University of California, Los Angeles and member of the California NanoSystems Institute. His current research includes nanoscale science of biological systems, fabrication of atomic switch networks to emulate the neocortex and the mechanobiology of cells, exosomes and actin bound with neuronal binding proteins.
Dr. Gimzewski is a Fellow of the Royal Society and Royal Academy of Engineering. He has received honorary Doctorates (DSc hc & PhD hc) from the University of Aix II in Marseille, France and from the University of Strathclyde, Glasgow. He is a PI at Materials Nanoarchitectonics  (MANA)  in the National Institute of Materials Science (NIMS), Tsukuba, Japan. He is also Scientific director of the UCLA Art|Sci Center.
Prior to joining the UCLA faculty in 2001, he was a group leader at IBM Zurich Research Laboratory, where he conducted research in nanoscale science and technology for more than 18 years. Dr. Gimzewski pioneered research on mechanical and electrical contacts with single atoms and molecules using scanning tunneling microscopy (STM).
Sponsored Content Policy: News-Medical.net publishes articles and related content that may be derived from sources where we have existing commercial relationships, provided such content adds value to the core editorial ethos of News-Medical.Net which is to educate and inform site visitors interested in medical research, science, medical devices and treatments.